EVENTS
ONLINE COOKING EXPERIENCES & LOCAL EVENTS
Now booking PRIVATE ONLINE COOKING CLASS events for your team at the office, birthday party or friends/family! Contact me for more information on customizing your special event. 
Highly satisfied cooking class corporate clients include…
Microsoft
Starbucks
McGrawHill
Glassdoor
Gonzaga Law School
Gary Sinise Foundation
Smartsheet
Let's cook TOGETHER and TAKE THE STRESS OUT OF MEAL TIMES! All recipes for online cooking classes will be simple, easy and centered around ingredients you may even have in your kitchen. You're guaranteed to love the recipes and cook them again and again. All recipes are nutritious, flavorful and easy to replicate!
Recipes, shopping list and Zoom link will be emailed upon received payment (non-refundable) 1 week in advance of the class date. Please note, sign up early so you have time to shop for the recipes. Monika will provide ideas for ingredient substitutions, nutrition tips and interact with guests during the class. Have a question during class? Shout it out! This is NOT a YouTube cooking tutorial or TV cooking class. It's interactive! *Please let Monika know if you don't receive the recipes via email (check Spam/Junk folders)! HOTMAIL AND OUTLOOK EMAIL ADDRESSES TEND TO HAVE TROUBLE WITH EMAIL CONFIRMATIONS AFTER REGISTRATION. 
Tips for Success at Virtual Cooking Experiences:
If you're a novice in the kitchen, that's OK! We will cook at pace that will allow you to be empowered and confident!
Read all recipes before class. Gather ingredients and equipment so that everything is ready for cooking! Some of the food may be prepped before class if you prefer. Monika will mention specific prepping tips on some recipes.
Print recipes before class or have them readily available to read on a screen as we cook together. If you forget, that's ok. You will be instructed on each step on the recipes.

Fall Freezer Meal Prep Workshop
Let's get meal prepping some hearty FREEZER MEALS! Join Monika on Zoom and cook along to set yourself up for delicious comfort foods this Fall. This workshop will feature 4 meal-prep-friendly recipes focused on seasonal ingredients. In just 1 class, you'll be SUPER productive and have a freezer of satiating meals to enjoy.
Cost: $25 
Sunday, October 23rd 
LIVE at 4:00 PM PST on Zoom OR watch the recorded version at your own convenience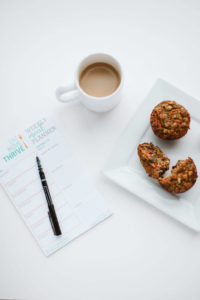 Menu:
*All comfort food recipes are family-friendly, and can easily be modified vegetarian, non-dairy and gluten free. Just ask your questions to Monika ahead!
Pumpkin Spice Superhero Muffins (a seasonal twist on the classic superhero muffin)
Stuffed Pasta Shells with Tofu Ricotta (trust me, this higher protein, lower saturated fat option is a winner)
Classic Meatballs for All Occasions (on sub sandwiches, with bbq sauce, in spaghetti marinara)
Two Bean Veggie Burgers (take burger night to the next level with this plant based option-YUM)
*top photo sourced from loveandlemons.com

Barn & Blossom Cottage LIVE Cooking Classes
Join us in our newly renovated nursery cottage for a series of cooking classes with Eat Move Thrive owner and Registered Dietitian-Nutritionist Monika Jacobson! This three part series will provide you with lots of tips, tricks, and recipes for cooking delicious healthy food with the seasons. Monika will demonstrate cooking the different recipes while educating – then we taste!
Cost is $75 per class and $200 if you sign up for all three! For the 3-class discount, put all 3 classes in your care and enter code at checkout: EATMOVETHRIVE
*Be sure to click the add on button at checkout if you would like to include wine. 21 years and older for these events please.
SIGN UP HERE via Barn and Blossom Website
Menu:
October Harvest Bites
Butternut squash and apple soup
Delicata prosciutto arugula salad
Sweet potato and sage biscuits (plus gluten free focaccia available for those who need it)
Snickers Dates
November "Leftovers Fiesta" 
Sweet potato black bean enchiladas and…
Leftover Thanksgiving Turkey enchiladas
Mexican slaw
Chocolate banana "nice" cream
December Holiday Tastes:
Cranberry beef meatballs
"Christmas carrots" with tahini and pomegranate
Chocolate olive oil cake with scented whipped cream

Kid's Cooking Club (Coming Back Soon!)
KCC gift certificates and aprons available!
The best thing your kiddo can do on Zoom! See Instagram Highlights from Kid's Cooking Club
5 PM PST on Wednesdays
Weekly Virtual Cooking Class
SPRING DATES (8 weeks total):
Weeks 1-4
April 13th – Mini Lasagna Cups
April 20th – Apple Cinnamon Muffins
April 27th – Chicken Quesadillas
May 4th – Fish Po-boy Sandwiches
Weeks 5-8
May 11th – Mini Zucchini Pepperoni Pizzas
May 18th – Banana Pancakes
May 25th – Bulgogi Meatballs
June 1st – Chocolate Muffins with Black Beans (secret ingredient!)
Cost: $75/4 weekly classes or $140 for all 8 weeks!
Welcome to Spring Kid's Cooking Club! Join my kiddos and me every Wednesday for fun in the kitchen. Every week we will focus on: specific cooking skills, food safety tips and cooking an entire recipe from start to finish. Kids ages 4-10 will love Cooking Club-the little ones may need more assistance from an adult. The recipes will include breakfasts, healthy snacks, nutritious sweet treats and entire meals the whole family will enjoy. A healthy relationship with food begins at home.  Join us for Kid's Cooking Club and watch your little ones THRIVE in the kitchen! Enjoy a *FREE KID'S APRON* with the purchase of any 4-week Session (1 complimentary apron per registration but extras are available with purchase of "additional kid" at registration. For NEW mini chefs only). *while supplies last!

Gift Certificates Available for Online Cooking Classes, Kid's Cooking Club & 1:1 Coaching
All are customizable! Email Monika for yours today.
Well-organized, great energy, Monika made everyone feel at home, and the extra tips on health were most welcomed!
I m such a novice that I really appreciated the advance handout giving me time to shop, prep, pull out everything I need throughout the process. And cooking alongside Monika was terrific! I felt so accomplished by the end!