EVENTS
ONLINE COOKING EXPERIENCES & LOCAL EVENTS
Let's cook TOGETHER and TAKE THE STRESS OUT OF MEAL TIMES! All recipes for online cooking classes will be simple, easy and centered around ingredients you may even have in your kitchen. You're guaranteed to love the recipes and cook them again and again. All recipes are nutritious, flavorful and easy to replicate!
Recipes, shopping list and Zoom link will be emailed upon received payment (non-refundable) 1 week in advance of the class date. Please note, sign up early so you have time to shop for the recipes. Monika will provide ideas for ingredient substitutions, nutrition tips and interact with guests during the class. Have a question during class? Shout it out! This is NOT a YouTube cooking tutorial or TV cooking class. It's interactive! *Please let Monika know if you don't receive the recipes via email (check Spam/Junk folders)! HOTMAIL AND OUTLOOK EMAIL ADDRESSES TEND TO HAVE TROUBLE WITH EMAIL CONFIRMATIONS AFTER REGISTRATION. 
Also, now booking PRIVATE VIRTUAL COOKING CLASS events for your office, birthday party or friends/family! Contact me for more information on customizing your special event! 
Tips for Success at Virtual Cooking Experiences:
If you're a novice in the kitchen, that's OK! We will cook at pace that will allow you to be empowered and confident!
Read all recipes before class. Gather ingredients and equipment so that everything is ready for cooking! Some of the food may be prepped before class if you prefer. Monika will mention specific prepping tips on some recipes.
Print recipes before class or have them readily available to read on a screen as we cook together. If you forget, that's ok. You will be instructed on each step on the recipes.

Kid's Cooking Club-SPRING MENUS BELOW!
KCC gift certificates and aprons available!
The best thing your kiddo can do on Zoom! See Instagram Highlights from Kid's Cooking Club
5 PM PST on Wednesdays
Weekly Virtual Cooking Class
SPRING DATES (8 weeks total):
Weeks 1-4
April 13th – Mini Lasagna Cups
April 20th – Apple Cinnamon Muffins
April 27th – Chicken Quesadillas
May 4th – Fish Po-boy Sandwiches
Weeks 5-8
May 11th – Mini Zucchini Pepperoni Pizzas
May 18th – Banana Pancakes
May 25th – Bulgogi Meatballs
June 1st – Chocolate Muffins with Black Beans (secret ingredient!)
Cost: $75/4 weekly classes or $140 for all 8 weeks!
Welcome to Spring Kid's Cooking Club! Join my kiddos and me every Wednesday for fun in the kitchen. Every week we will focus on: specific cooking skills, food safety tips and cooking an entire recipe from start to finish. Kids ages 4-10 will love Cooking Club-the little ones may need more assistance from an adult. The recipes will include breakfasts, healthy snacks, nutritious sweet treats and entire meals the whole family will enjoy. A healthy relationship with food begins at home.  Join us for Kid's Cooking Club and watch your little ones THRIVE in the kitchen! Enjoy a *FREE KID'S APRON* with the purchase of any 4-week Session (1 complimentary apron per registration but extras are available with purchase of "additional kid" at registration. For NEW mini chefs only). *while supplies last!

Sunday Online Cooking Class
4:30 PM PST on Zoom! (March and April classes will be recorded and link emailed out Sunday night after class. Must watch within 1 week before it expires.)
Cost: $18 each
March 27th: Arugula Pesto Potato Salad & Perfectly Blackened Salmon 
This meal screams SPRING and is perfectly balanced with protein/healthy fats/complex carbohydrates. Let's make our own pesto for this potato salad (compared to the traditional mayo version).  The salad holds up well for days in the fridge (hello meal prep!) and is a lovely side for a Spring brunch too. If you need a new way to LOVE salmon, this is it! Let's perfect that blackened salmon sear so you never overcook it again.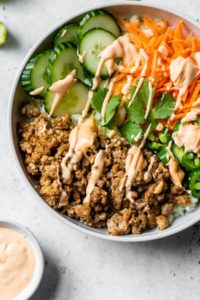 April 10th: Banh Mi Bowls & Lemon Blueberry Chia Superhero Muffins
Let's do some meal prep! If you like Vietnamese Banh Mi sandwiches, you'll LOVE these bowls. They are naturally gluten free and can be made vegetarian. You can enjoy these for Sunday dinner but save the leftovers (or double it) so you have lunches ready for the week too. We will also get our baking on with Monika's favorite muffins with a Spring twist! Perfect for breakfast meal prep and are freezer-friendly. Let's enjoy Spring meal prep with some healthy favorites!

SOLD OUT!!! This may need to become a thing…
Monday, May 23rd at 5 – 7 pm at Winescape
Join Monika Jacobson of Eat Move Thrive Spokane and Pat & Phil Butterfield of Winescape for a family-style evening of traditional seafood paella, wine and relaxation in the outdoor pergolas.
2 Ticket prices (must purchase 1 indiv. ticket at a time during registration-sorry it's clunky!)
$65 for non-Winescape Club Members
$60 for Winescape Club Members
Ticket includes:
-Live cooking demonstration and recipes to make your own paella at home.
-Tastings of 2 Winescape wines, traditional seafood paella, spring Spanish side salad, crusty bread and a little something sweet to finish the evening!

Gift Certificates Available for Online Cooking Classes, Kid's Cooking Club & 1:1 Coaching
All are customizable! Email Monika for yours today.
Well-organized, great energy, Monika made everyone feel at home, and the extra tips on health were most welcomed!
I m such a novice that I really appreciated the advance handout giving me time to shop, prep, pull out everything I need throughout the process. And cooking alongside Monika was terrific! I felt so accomplished by the end!