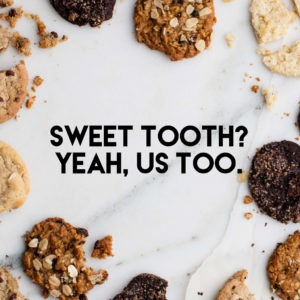 Written by: Natalia Walczak, Student Intern from St. Louis University (soon-to-be-RDN!)
I have a huge sweet tooth. Over the past several years I have struggled with my relationship with food and have learned the importance of moderation and allowing myself to indulge from time to time. While also being a dietetics student, I place a lot of emphasis on eating as many nutritious foods as I can. Many recipes aim to "healthify" desserts simply by making them low calorie with non-nutritious sweeteners and additives. It is important to remember that "low calorie" does not mean it's better for you and paying attention to nutrient content when selecting foods is often more impactful when trying to maintain/develop healthy and balanced eating habits. Here are some of my go-to healthy, nutrient-dense and delicious dessert recipes for you to try!
1. Avocado Chocolate Mousse (From Wellplated.com)
Including avocados in this rich and decadent desserts adds a healthy dose of monounsaturated fats, fiber,  vitamins and minerals. I love how simple, quick and filling this recipe is. And it's dairy-free for those who need it!
(Image sourced from wellplated.com)
2. Peanut Butter Oat Rice Krispy Treats (Original recipe from Natalia)
Subbing regular butter for peanut butter adds a flavor and nutrient kick. Honey is a great sweetener alternative that has antioxidant and antimicrobial properties. Adding oats to the rice krispy treats adds a fiber boost as well as a variety of vitamins and minerals such as iron, magnesium, vitamin B and vitamin A. Dark chocolate is also rich in fiber, iron and magnesium.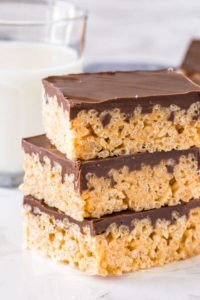 (Image sourced from justsotasty.com)
Ingredients:
¾ cup natural creamy peanut butter (i.e. Adam's)

⅓ cup honey

¼ teaspoon sea salt

½ tsp pure vanilla extract

2 cups crispy brown rice cereal (i.e. Barbara's cereal)

1 cup rolled oats

3 oz dark chocolate (bar or chips)

1 tsp coconut oil
Instructions: 
Lightly grease a 8×8" square baking pan and set aside

Over medium- low heat (or in the microwave), melt peanut butter.

Stir in honey, sea salt and vanilla extract until well combined. 

Add crispy rice cereal and oats into a large mixing bowl and stir to combine. 

Pour peanut butter mixture over cereal and oats and stir until completely coated. 

Pour mixture into the prepared baking sheet and use a rubber spatula to spread and press down until even and smooth. 

Using a double boiler or microwave, melt the chocolate and coconut oil (on low heat) and stir to combine. 

Drizzle over rice krispy treats and place in the refrigerator for 60 minutes until set. 

Enjoy!
3. Edible Cookie Dough (From Frommybowl.com)
Chickpeas and oats are loaded with fiber, protein, folate, potassium and other vitamins and minerals. The nut butter provides a healthy serving of unsaturated fats. These ingredients make for one of my all-time favorite desserts. 
(Image sourced from frommybowl.com)
4. Almond Butter Brownies (From Frommybowl.com)
These brownies are vegan, sweetened with fruit, made with whole ingredients and happen to be absolutely delicious. The almond butter has a smooth and mild flavor and adds a rich, fudgy texture to this dessert. 
(Image from frommybowl.com)
5. Healthy Carrot Cake (Adapted from Asweetpeachef.com)
This carrot cake is loaded with fiber from whole grains, dried fruits and of course, carrots! The frosting is made with Greek yogurt and naturally sweetened with maple syrup so it will satisfy a sweet tooth without a total sugar rush.
(Image sourced from asweetpeachef.com)
Ingredients:
¾ cup whole wheat flour

¾ cup oat flour

2 tsp baking soda 

1 tsp ground cinnamon

½ tsp ground nutmeg

¼ tsp ground ginger

⅛ tsp kosher salt

⅛ tsp ground cloves

¼ cup tahini or almond butter

2 large eggs

1 tsp vanilla extract

⅔ cup pure maple syrup

½ cup plain greek yogurt

⅓ cup plain unsweetened almond milk

2 cups carrots, grated

½ cup raisins
For the frosting:
1 ½ cups plain greek yogurt

2 Tbsp pure maple syrup

1 tsp vanilla extract
Instructions:
Preheat oven to 350 degrees Fahrenheit and lightly grease a 9×13

baking pan. 

In a medium mixing bowl, combine the flours, baking soda, cinnamon, nutmeg, ginger, ground cloves, and set aside. 

In a separate bowl, whisk together eggs, almond butter/tahini, vanilla extract, pure maple syrup, greek yogurt, and almond milk. 

Add the wet ingredients to the dry and fold until just combined. 

Mix in the shredded carrots and raisins. 

Bake for 20-25 minutes or until a toothpick inserted comes out clean. 

Allow to cool completely before frosting. 

To make the frosting, combine all the ingredients and spread evenly on top of the cake. 

Allow to set in the refrigerator for 1-2 hours with slicing and serving.