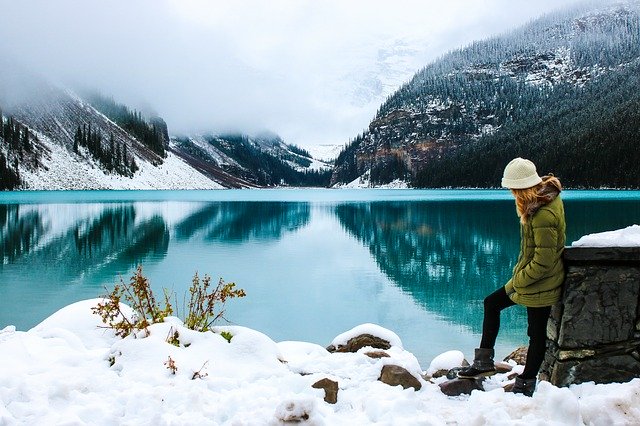 Image from Pixababy
By Katelan Head, Dietetic Intern 
Sticking to an exercise routine can be a challenging task no matter what you have going on in your life. Movement can also look different depending on the season and what activities you typically like to engage in. Although some exercises might have to be put on hold until warmer months, you can still get a great workout and daily movement when it is cold outside. Here are some ideas on how to stay moving this Winter.
Hit the Gym
The gym is a great option for exercise, especially when the weather changes. Try using the treadmill or stationary bikes for some cardio or grab a pair of weights and mat for a strength training session. You can find some great inspiration for workout routines on Pinterest or YouTube. Try this full body workout routine that can be completed at the gym or with a pair of dumbbells at home.
Attend a Workout Class
Have you been curious about trying a workout studio in your area? Winter is the perfect time to move your workouts inside. High Intensity Interval Training (HIIT), Barre, Pilates, CrossFit or yoga are all classes that are easy to find and available regularly. Bonus – attending a class is a great way to hold yourself accountable for squeezing in a workout!! Grab a friend and sign up for a new class. Not sure which type of workout you want? Check out ClassPass for a free trial. You can attend up to 6 classes in your first month!
Turn on the Tube and Stream it
Nowadays, you don't even have to leave your home to get in a workout! There are so many options to stream workout videos from you TV or computer. On Demand now has access to tons of different workout videos and plans to follow like plyo workouts, workouts with or without weights, yoga and so much more. Don't have On Demand? Check out YouTube for different videos that you can do from anywhere. There are also online subscriptions for yoga, pilates and barre. Check out some yoga classes here or barre here. Both have a free trial so you can try them out!
Sign up for Dance Lessons
Try a non-traditional idea to add some movement into your week by signing up for a dance classes a few nights per week! It's a wonderful way to do something both social and active that can include your loved ones. Added bonus, it doesn't feel like a workout but you can get in a great sweat session with swing, salsa and tango dance classes.
Get a Stationary Bike
Get ready to start cycling from your living room! If you don't have a stationary bike, you can purchase a stationary bike stand like this one to place your bike into. You can get in a great workout indoors while the kids are playing or dinner is in the oven! There are also some great videos and online cycling subscriptions that can be purchased if you need a coach or some extra motivation like this one. Or download the Peloton app where you can get tons of workouts that can also be done at home. You don't need to purchase the bike in order to use the app so be sure to check it out! 
Pair Up at Work
Grab a buddy at work and hit the stairs! Challenge each other to take the stairs instead of the elevator or walk the hallways during lunch. Have a bunch of meetings and one-on-ones? Try a walking meeting! Having a partner is a great tool to keep you motivated!
Bundle Up and Get Outside
If you don't want to change up your fitness routine because of the weather, grab some warm clothes and head outside! Grabbing some hand and feet warmers before you get bundled up might help to keep you cozy while you get moving. Do you enjoy snow sports? Try skiing, snowboarding, snowshoeing or backcountry hiking to get your heart rate up while getting in some fresh air!
Still having trouble figuring out how to keep active as the weather changes? Monika is available to answer any questions or for help incorporating a new fitness routine that gets you excited and moving!