There is no doubt, our eating habits have changed since being homebound during the Stay Home, Stay Safe quarantine. For some, the extra time to cook is an unexpected blessing. For others, it's a challenge! I wanted to compile a few recipes for some EASY and quick meals you can whip up at home with limited ingredients. These recipes allow for plenty of substitutions. If you don't have all these ingredients on hand-send me a message and I will give you some other ideas!
Thank you to my Dietetic intern, Abbey, for writing this blog post!
Thinking about all of you! Stay safe and healthy, friends.
Easy Minestrone Soup
(Photo sourced from twopeasandtheirpod.com)
In need of a quick, easy, nothing-but-the-kitchen-sink inspired dish? Well, here it is! I love this recipe for so many reasons, especially when I'm nearing the end of my groceries but still wanting a healthy meal. If you don't have certain ingredients, no worries! That's the nature of this dish! Utilize whatever you have available. Whether it's fresh, frozen or canned veggies, bone broth instead of chicken broth, lentil or chickpea (I like to use Banza) pasta…the options are endless. 
Prep: 5 minutes

Cook: 15 minutes

Total: 20 minutes

Yield: 6 servings
Ingredients
6 Cups Chicken Broth 

 1 can (27-28 ounce) Canned Diced or Stewed Tomatoes

1 can (14-15 ounce) canned or fresh Kidney Beans 

2 cups (16 ounces) canned or fresh Mixed Veggies

1 cup pasta
Instructions 
Combine all of the ingredients in a pot and bring to a boil. 

Once it has begun to boil, reduce the heat to low-medium and allow to simmer for at least 10 minutes. 

Serve in bowls and enjoy with bread or any toppings you would like (pesto, arugula, parmesan, garlic, Italian seasoning, fresh basil).
Tex Mex Chicken and Zucchini
(Photo sourced from preventionrd.com)
What can I say, this meal is delicious! Chicken for added protein, veggies, cheese, and all the seasonings. I must say that I am a sucker for anything with cheese. But who isn't?! This one-pan dish is great for the whole family. If cheese doesn't agree with you, just add it to individual servings. Enjoy!
Prep: 5 minutes

Cook: 25 minutes

Total: 30 minutes

Yield: 6 servings
Ingredients
1 Tbsp oil (Extra Virgin Olive Oil or Avocado Oil)

1 medium onion, finely chopped

3 large garlic cloves, minced

1 lb boneless & skinless chicken breasts, cut into 1" pieces

2 large zucchini, diced

14 oz can black beans, drained & rinsed

14 oz can diced tomatoes

1 tsp

taco seasoning

1 Tbsp cumin, divided

1 tsp salt

Ground black pepper, to taste

1 cup Colby Jack cheese, shredded

1/2 cup green onions, chopped

Optional: 1 cup corn

Optional: 1 bell pepper, chopped
Instructions
Preheat a large

deep skillet

on low to medium heat. Add oil to coat. Add garlic and bell pepper; stir occasionally and sauté for 3 minutes.

Move vegetables to the side and add chicken to the skillet. Sprinkle with 1 tsp cumin, salt and black pepper.  Stir occasionally. Cook for 5 minutes.

Add tomatoes, zucchini, beans, taco seasoning and remaining cumin. Optional: add corn and bell peppers. Stir, cover and cook on low heat for 10 minutes.

Sprinkle with cheese, cover and cook for a few minutes until the cheese has melted. Garnish with green onion. Serve hot, on its own or with quinoa or rice.
Adapted from: preventionrd.com
Salmon Stir-Fry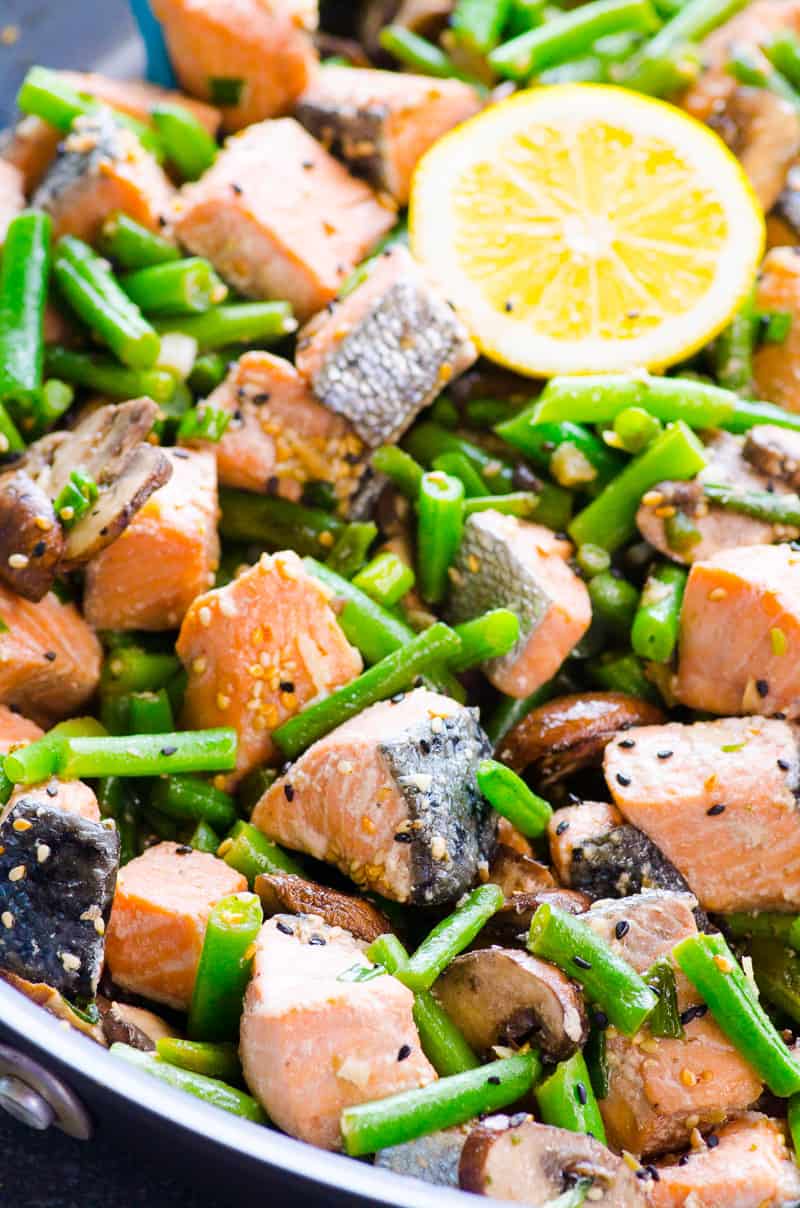 (Adapted from ifoodreal.com & photo from website)
If you're anything like me, you've had a large piece of frozen salmon from Costco sitting in your freezer. Probably for months. Well, what time better than the present to make a meal out of it? If you don't have green beans (fresh or frozen), broccoli also works. 
Prep: 7 minutes

Cook: 13 minutes

Total: 20 minutes

Yield: 4 servings
Ingredients
1.5 lbs salmon fillet (fresh or frozen) cut into 1" cubes

3 Tbsp soy sauce (or liquid aminos)

11 oz green beans, trimmed & cut

2 cups mushrooms, sliced

1 Tbsp garlic, crushed & divided

1 Tbsp ginger, minced & divided

2 tsp sesame oil, divided

1/2 lemon, juice of

1/4 cup green onion, chopped
Instructions
In a medium mixing bowl, marinate salmon with 2 Tbsp soy sauce while you are preparing ingredients.

Preheat a large deep skillet on low – medium heat and add 1 tsp sesame oil. Add salmon, 1/2 Tbsp ginger, 1/2 Tbsp garlic and cook for 8 to 10 minutes or until fish is thoroughly cooked. Transfer to a medium bowl and set aside.

Increase heat to high and add the remaining last 1 tsp of sesame oil to the skillet. Add mushrooms, green beans, 1 Tbsp soy sauce, 1/2 Tbsp ginger, 1/2 Tbsp garlic and cook for 5 minutes, stirring occasionally. 

Return salmon to the skillet, squeeze lemon over, top with green onions. Stir, remove from heat and serve. Optional: Serve over rice or quinoa.