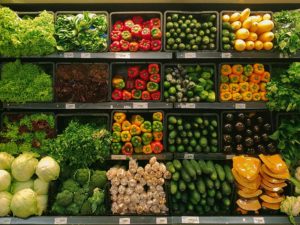 The biggest nutrition "tip" I could give anyone, generally speaking, is to EAT MORE VEGGIES!! You can't go wrong! And bonus points for more variety and color in your veggie selection. We have all heard this before, but WHY is it really all that important? Here are just a few reasons why:
Vegetables provide complex carbs for energy! You NEED this folks!
Vegetables contain lots of fiber to support your digestion, heart health, balance blood sugars and give you satiety (i.e. make you feel full).
Vegetables are loaded with antioxidants to prevent cellular damage and fight disease. Veggies are truly anti-carcinogenic (fight cancer). HUGE WIN!
Vegetables are anti-inflammatory and calm systemic inflammation in our bodies.
Vegetables offer flavor and volume in our meals so that we feel more satisfied without a big calorie hit!
Here are 25 ways to get those veggies in! Pick 1 or 2 new ways to start and build from there!
Bake shredded carrot, zucchini, squash into quickbreads or muffins.
Make veggie scrambles/quiche for breakfast or lunch.
Try a savory oatmeal loaded with veggies like shredded carrots or zucchini for breakfast instead of traditional sweet oatmeal.
Cut up veggies at the beginning of the week so you'll have them ready for snacks. Pair them with single serving options of hummus, peanut butter, guacamole, etc.
Make a "clean out your fridge meal" such as a stir-fry or a veggie soup at the end of the week and throw every veggie you have in with a protein and a complex carb. Nutritionally complete meal done!
Add veggies into smoothies. Kale, chard, spinach, zucchini, cucumber, carrots, beets all work well blended into a tasty smoothie.
Add veggies to your favorite casserole to boost the nutritional value. This is a great way to help the kiddos eat more veggies too.
Whip up some breakfast egg muffins (mini crustless quiches) with any veggies you like! Breakfast veggies are always a bonus!
Add spinach to soups, scrambled eggs or marinara sauce. It literally cooks into ANYTHING!
Add riced cauliflower to other cooked whole grains such as rice, oatmeal, quinoa, etc.
Add pumpkin or butternut squash puree to pancake or waffle batter. Then add some cinnamon…PUMPKIN SPICE!
Slip cabbage, spinach, broccoli, zucchini into baked pasta or lasagna.
Make veggie noodles using spiralized carrots, parsnips, zucchini or summer squash. You can pick up a spiralizer from Amazon for a modest price!
Try lettuce for wraps, burgers and sandwiches.
Mix mushrooms, carrots, zucchini into ground beef or turkey for meatballs, burgers, taco meat.
Make veggie fries with eggplant! Air fryers work well for this!
Add veggies to pizza such as a big handful of fresh arugula or tomato slices on top after baking it.
Make a simple vegetable soup such as this quick and easy Minestone!
Grill veggies kabobs for a fun side with any meal.
Make stuffed bell peppers such as these 5 Ingredient Italian Turkey Sausage Stuffed Peppers.
Use spaghetti squash for noodles and top with marinara and meatballs.
Make kale chips in the oven! So easy and best enjoyed right away!
Start a Meatless Monday for dinners and naturally your meal will be more veggie centric!
Add some microgreens, sprouts, arugula or fresh tomatoes to your avocado toast.
Add shredded lettuce, chopped tomatoes, scallions or fresh corn to your nachos!