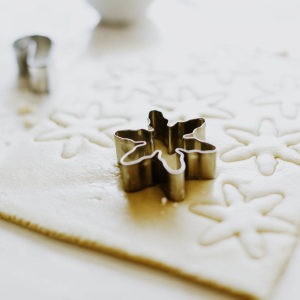 By Taylor Leahy, Bastyr Dietetic Intern and Monika Jacobson, RDN
Gingerbread, peppermint, chocolate, spiced nuts… These are all the baking flavors of the season that spark joy to me! Baking is a pastime for many of us during the holiday season. Believe it or not, you can increase your nutrient intake over the holidays and a great way to do so is by baking. There are plenty of ways that you can add whole foods and nutritionally-dense ingredients to your baking recipes. Trying new recipes and being mindful of nutrition can be a fun experiment and way to express culinary creativity! Remember it is important to enjoy your holiday favorites since they only come around once a year. Traditional baked goods can (and should) be a part of a healthy holiday season. 
Try adding these nutrient boosting ingredients to your baking recipes:
Nuts: walnuts, pecans, almonds, cashews are all good choices 
Benefits:

provide healthy fats from plants (including omega 3), protein, fiber, vitamins 
Seeds: pumpkin, flax, chia, hemp
Benefits:

provide healthy fats from plants, protein, fiber, vitamins 
Tip:

Use a Tbsp of flax or chia seeds mixed with 3 Tbsp of water as egg alternatives if you are looking to make a recipe plant-based
Fruits and Vegetables: Dried or fresh fruit, fresh veggies
Tip: Add carrots, sweet potato or zucchini to breads and muffins. Add fruit/berries to muffins, quickbreads, scones. Applesauce can be used in place of all/some oil in some baked goods. 
Benefits:

adds vitamins, minerals and fiber 
Whole foods sweeteners:
Tip: Swap maple syrup, honey, dates, coconut sugar for white refined sugar
Benefits:

added micronutrients and low on the glycemic index
Alternative flours: Almond, coconut, whole wheat, spelt, oat, bean flours
Benefits:

 some are higher in fiber and/or protein 
Dark chocolate, cocoa powder or cacao:
Benefits:

high in antioxidants, may be anti-inflammatory for some people
Warming spices: Ginger, cinnamon, nutmeg, turmeric 
Benefits:

anti-inflammatory and blood sugar regulating 
You can easily modify your own recipes by swapping or adding these options in. One of the simplest ways to do this is by subbing white flour with whole wheat or a gluten free option for those who need to *avoid gluten (*not most people). Whole foods sweeteners can oftentimes be used as a 1:1 replacement for white sugar to sweeten your recipe. When making cookies or candies, using dark chocolate instead of milk chocolate is a simple way to increase the nutrition and flavor of your recipe. Lastly, nuts and seeds can be added to nearly any dessert recipe. Just find one that fits your flavor profile. 
This holiday recipe roundup has some great examples of ways you can include nutrient dense options when baking. Check them out!
Holiday Recipe Roundup from some of our favorite food bloggers:
Peanut Butter Cups: Form your peanut butter into tree shapes for a new version of the candy classic
Almond Flour Thumbprint Cookies: Gluten free and high in fiber
Dark Chocolate Bark: A great homemade gift idea and so easy
Tahini Chocolate Chip Cookies: A twist on a classic
Apple Cranberry Pecan Bread: Perfect for Christmas morning 
Chocolate Hazelnut Cookies: No refined sugar 
Peppermint Frosted Brownies: Who doesn't love a good brownie?
Gingerbread Truffles: A good snack to have all season long